We Are Happy To Be Of Help To Our Customers....
Providing Expertise, Knowledge And Skill.
Serving this area for over 30 years, Acropolis is known for performing the work on natural stone that old world masters in the craft possess. This knowledge is a dying art form, but Acropolis incorporates it with the demand of the industry and with the skills we are able to offer. Spiro is our city's last remaining master craftsman in this trade and, since the age of 9, no one has compared to Spiro's knowledge and expertise.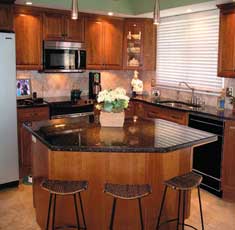 At Acropolis we offer affordable natural stone, which delivers beauty like no other. The saying is true, "you get what you pay for!" These days, it's all about imitation, which does not compare to the beauty and lifetime of natural stone. We provide our customers more for their dollar than any other competitor. Consumers, do your homework.
Granite and natural stone withstands heat, stains, and the test of time. Research, read, and realize what a better value is for your dollar, your home, and your enjoyment.
Wouldn't you want an expert to do your project?
42 years of handling stone, has earned Spiro unsurpassed expertise in this trade. Starting from nothing, Spiro dreamed of working with stone. After years of hard work, those dreams became a reality. With the help of Spiro's wife, Anna, and their family, they have developed new ways to make Acropolis grow. The most recent addition to Acropolis' team is Spiro and Anna's son, Tony. After returning from college, Tony has helped create a "new wave" of the stone market by implementing his education and know-how. By being a family business, you are getting treated like family!

Please visit our web site for information, education, and comparisons of granite and marble. We will not sell you with gimmicks or pitches; like so many industries do...We sell on our experience, expertise, and our years of service. We also have excellent references!
What Spiro at first thought was becoming a lost art has had a re-birth in an affluent society. He was called upon to design and install much of the flooring in the west wing of the St. Louis Art Museum in 1986; met all deadlines and supervised all the marble work during construction of the St. Louis Galleria; designed and installed the beautiful marble in the Hyatt Regency lobby at Union Station; and crafted the green marble bases for the signature horses at the Adams Mark hotel. Most recently, Spiro has gained national acclaim by being on HGTV's Modern Masters TV show.

Acropolis is a one-stop shop, offering counter tops, sinks and even fixtures for your projects. We have our own employees that are trained to help you reduce cost in your planning.
Customers, when wanting to add value to your home, select natural beauty and the expertise beyond compare!
---
---